The partnership of Amethyst Place, Sunflower Development Group, and Rosemann & Associates most recently acquired land just off the Troost Corridor in the Opportunity Zone adjacent to Beacon Hill. They will be developing two levels of supportive housing to provide women and children with affordable, long-term housing, breaking cycles of poverty, substance use, and trauma to achieve multi-generational impact. Clemons Real Estate assisted this partnership to close on 2770 Tracy that will double the housing capacity at Amethyst place.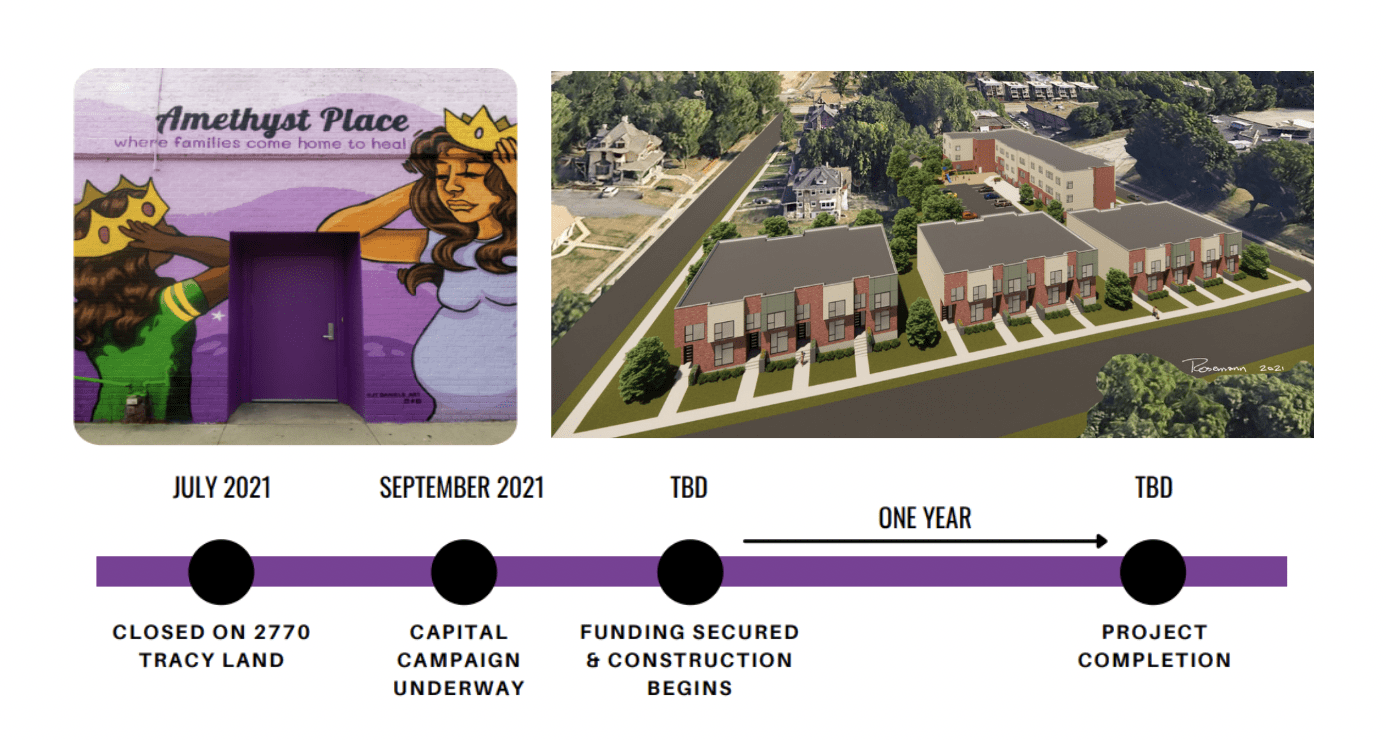 We asked them a few questions about their vision and how the community can get involved. We could not be more excited for this project!  
How did your organization get started?
Amethyst Place is the product of Kansas City community leaders banding together to address common issues across multiple service systems. In 1989, the Kansas City Metropolitan Task Force on Drug Exposed Infants convened 28 agencies that were concerned by the high recurrence rate among single mothers after they were released from 30-day residential substance use disorder (SUD) treatment programs. Because of untreated mental illness, significant histories of trauma, poor educational attainment, limited work histories, felonies, evictions, poor credit histories, and lack of safe and affordable housing options, these women had no choice but to return to the same communities where their substance use began, threatening their recovery and the stability of their families. Founded in May 2000 by task force members, Amethyst Place has filled this gap for over 22 years and has been home to over 365 families, including 707 children. We are one of few agencies in Kansas City that provides the unique hybrid of long-term supportive housing and recovery support for women and children. Through our 37 supportive housing units at 28th and Troost, we serve about 200 women and children each year, helping them overcome generational poverty, substance use, and trauma.
What is your vision for the newly acquired land?
We purchased the land at 2770 Tracy, which is just a block east of our current campus, to help us double our housing capacity. This is a significant opportunity to address houselessness and affordable housing needs in our community (along with the underlying factors that our program addresses – mental health, substance use, trauma, and poverty). Our waitlist, which is typically as long as the number of families we can house, is a testament to the great community need for our expansion. We play a pivotal and unique role in the service system and look forward to reaching our fundraising goal so that construction can commence. We will be building 40 units of supportive housing through a mix of apartments and townhomes, allowing us to bring more families home to heal.
How can people get involved in your organization and what do you need most from them?
A $14,100,000 capital campaign is underway for our supportive housing expansion project at 2770 Tracy ($8,475,000 has been raised). We have already secured the land and are in the process of raising funds to help us double our housing capacity. Financial support for our capital campaign will help us reach our goal quicker so that construction can commence and we can address the significant community need for housing and support. More information on the capital campaign and a link to donate are available at: https://amethystplace.org/get-involved/growap/. We also invite you to follow us on social media (@amethystplace) and subscribe to our newsletter so you can stay up-to-date and join us at fundraising events throughout the year.
How are you collaborating with other organizations in KC?
In addition to collaborating with numerous social service agencies throughout Kansas City to provide care to our families, we are also working with private sector partners on our expansion project. Sunflower Development Group, Rosemann and Associates, and Clemons Real Estate have all been important contributors in our efforts to expand.