We caught up with Butch Rigby and Byron Pendleton who are developers working to elevate developing areas of Kansas City by improving connections to them. Erin McGrane and Monica Enloe share this vision and continue to find solutions and new opportunities for Butch and Byron. 
The 63rd street corridor stretches from Oak Street east to Troost. The creation of this new abatement district has brought life to the area as it is 99.8% occupied by individual tenants. We asked them a series of questions about their interest in the 63rd Street Corridor and what they have learned along the way.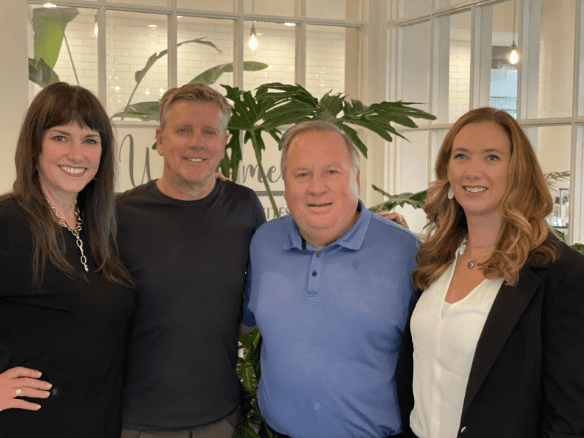 Left to Right: Erin McGrane, Butch Rigby, Byron Pendleton, Monica Enloe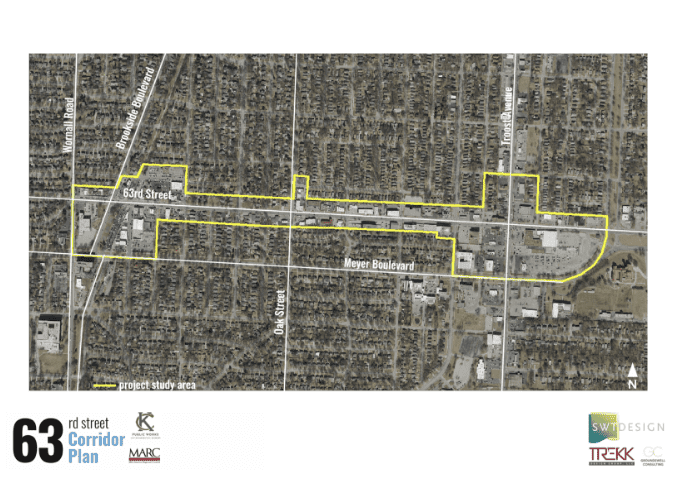 Plan for zoning of the 63rd Steet Corridor extending from Oak Street to Troost
What triggered your interest in the 63rd Street Corridor?
Our interest in the 63rd street corridor harkens back to almost every project we have done.  It was under rented and under-developed, yet surrounded by good residential and other good commercial districts.  It is very much like Crossroads was in 1994 when I purchased my first building down there, before the name Crossroads had been born. Byron was working down there next door, and we both understood that the area was surrounded by strong anchors, and would prosper.  The same thing happened on 63rd street. What started with 70% vacancy is now 99.8% occupied with more than 100 individual tenants. It has plenty of parking.  We invested in a lot of renovations that would make older medical buildings more engaged with the street, and, most importantly, we have small business tenants. They are loyal, engaged and passionate about the area. Our tenants are the key to the success of the 63rd street corridor.
What significant obstacles and/or success was unexpected?
One of the significant obstacles that we did not expect was push back from banks.  We did not anticipate the hesitancy from many banks regarding this corridor with over 70% vacancy, many fully vacant buildings, and buildings that were cold, dreary and dated.  While we had a history individually of taking fully vacant structures, remodeling them and renting them to full capacity, we assumed together we would be even better at it. We were  a bit surprised that some long-time banking partners were not so convinced of the future of 63rd street. We did find banks that shared our vision, and even those who were first hesitant, eventually came on board and participated in financing.
The unexpected successes were the rates at which new tenants came on board. We literally rented all of the properties faster than we could complete the renovations, and were fully rented when the last hammers hit the last nails. We have maintained an occupancy factor in the 98, 99% area.  The other unexpected success was the resiliency of our tenants during Covid. We worked together with them, and we all came out of it in great shape.
What advice do you have for property owners just beginning to invest?
Our advice to property owners just beginning to invest is to understand you have customers, not just tenants. The success of your tenants leads to the success of your business. Make it abundantly clear to them that it is very important to you that they have a great space that they enjoy going to each day. Too many landlords feel somewhat superior to tenants, and they don't create a relationship with the tenant. That is why they are your CUSTOMER.